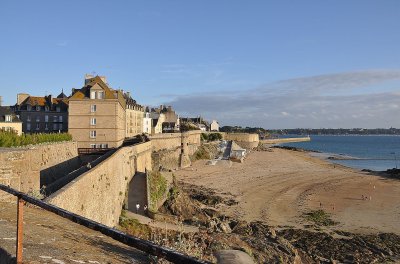 Saint-Malo
Less than an hour from Saint-Malo, the Lodge la Valette hotel is the perfect base for you to discover this ancient corsair city.
Your hotel 80 km from Saint-Malo opens the way to the sea
Forming a loop of nearly two kilometers, the ramparts of Saint-Malo are classified as historical monuments and are perfect for discovering the city and its large beach. Inside the walls, Saint Malo has charming little streets with typical stone houses representative of traditional architecture.
Among the other monuments to visit, don't miss the Saint-Vincent cathedral. But also the Saint-Sauveur Chapel and, of course, the Solidor Tower and the 15th century castle.
Between beaches, sculpted rocks and exotic fish, discover Saint-Malo from your hotel in Cesson-Sévigné
If you arrive in the city from the south, you will come across the Grand Aquarium of Saint-Malo, which offers more than 600 different species of marine animals. You can also visit Saint-Malo via the Bés Islands, accessible only at low tide. Or set off on a strange discovery of the sculpted rocks of Rothéneuf.