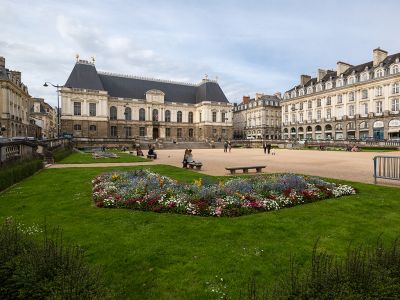 Rennes
The exciting city of Rennes is just 9 km from your Lodge La Valette hotel, giving you the perfect opportunity to explore its historic streets.
Discover the treasures of Brittany from your hotel near Rennes
You don't have to go very far in Rennes to discover its wonderful architectural heritage. The historic center, in the small cobbled streets of the Chapitre, the Palette and the Saint-Sauveur areas, allows you to discover splendid colored houses, with half-timbered facades.
Among the most beautiful historical monuments of Rennes, do not miss the Saint-Pierre Cathedral, the majestic town hall dating from 1720, the Parliament of Brittany or the Saint-Yves Chapel.
Your hotel near Rennes gives you access to many activities
Rennes is one of the most dynamic cities, home to many bars and restaurants, where you can taste delicious Breton dishes, day and night. In terms of culture, the Museum of Fine Arts, as well as the Museum of Brittany house many fascinating pieces for you to discover. And at the end of the day, for a peaceful stroll, return to the quays of the Vilaine.